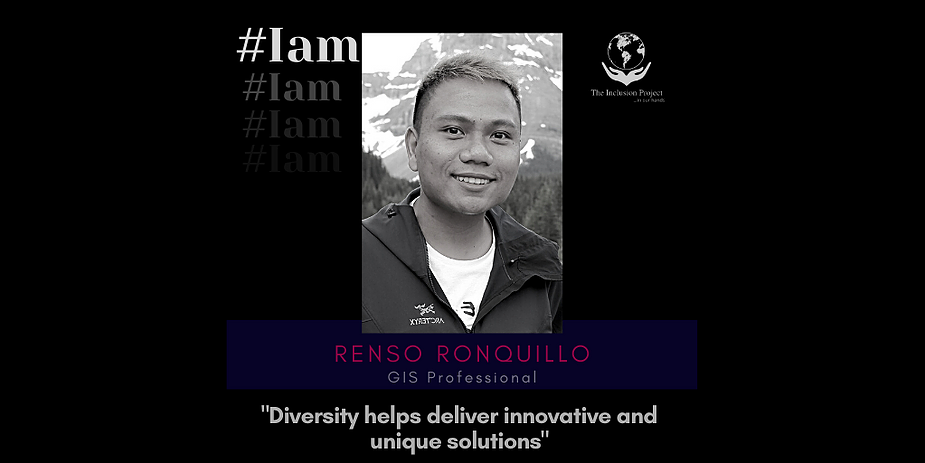 The #Iam campaign: Renso Ronquillo
"Hello everyone, I am Renso currently working as a Geographic Information Systems professional in the Government of British Columbia and exploring the beautiful province. Before I landed the job in the provincial government, I completed the BSc of Geology in the Philippines, I migrated to Calgary, Alberta in 2017. As an immigrant it was challenging to adjust to a new culture, thinking of the life I established and left behind in my home country. It was even harder to finally launch my career as a new graduate in a foreign country, with the Energy industry at a recession. My story is not as special compared to every immigrant in Canada, but I want to encourage you that you're not alone and things will get better, especially for someone who is driven.
I found no luck landing a job, due to the preference for Canadian universities graduate/work experience. It was overwhelming to go through a lot of processes just to get my university credentials accredited. I think it's a flaw in the system and it needs to be refined, making the accreditation process easier and/or faster. I believe, by doing so Canada can tap into a great potential of the workforce that has been hidden for a long time and possibly revive the economy.
Because of the preference for the Canadian Institution, I decided to take a Bachelor of Applied GIS program at the Southern Alberta Institute of Technology in 2018 and became a student leader of the GIS club. If you are choosing a program and institution, first, assess which one will best complement your current skills and the one that you'll enjoy. I have also learned, later on, that companies nowadays prefer someone with a Technological diploma as graduates have industry-ready skills. It was then I realized that going to school was the best decision I've made.
Also, during the program having a good circle of friends comes a long way! They've helped me excel at school, improve my people skills as well as my networking skills during our year together. In finding my practicum, I listened to a podcast "Work-life of Adam Grant" and it was really helpful, especially for anyone working or looking to start their career. The most valuable themes I remember from the podcast are: "Value doesn't come just from mere experience…" and "The power of diversity in the workplace." I then applied this knowledge in my job interview for the Government of British Columbia and impressed the panel especially showing them my people skills. I got employed and met a lot of amazing people along the way.
I continue to show my value as a young professional and the importance of diversity. Diversity helps to have various views of a problem and delivers innovative and unique solutions that will improve our services to British Columbia.
Thank you for reading my story! I would, also, like to thank 'The Inclusion Project' for being a medium to share the voices of minorities in Canada!"
https://www.theinclusionproject.com/wp-content/uploads/2021/01/138c5e_1005f4e5e93e4b9190fee0584a6b2f8d_mv2.webp
463
925
caorda
https://www.theinclusionproject.com/wp-content/uploads/2020/12/the-inclusion-project-logo.svg
caorda
2021-01-14 15:10:08
2021-01-14 19:23:12
The #Iam campaign: Renso Ronquillo